I really need to start writing posts as soon as I think of them, rather than think about it. Sorry you all haven't heard from me in well over a month. I've been fairly well, no big changes in our lives. Except...
I have a one-year-old! And a two-year-old!
I'm still trying to adjust to the fact that Amelia's birthday has been and gone. It felt strange being able to cuddle her for her birthday, as opposed to visiting a grave. Then again, I was so busy on Ianto's first birthday (remember, "Cookie" had flipped breech?) that we didn't even get to him. Having an actual child to sing happy birthday to is a hundred times better, too.
For Ianto's birthday this year, I decided to make up for last year and held a very small party by his graveside.
Yes, it says "Happy 2nd Ianto"... I couldn't fit the word "birthday" on, okay?


When we got there, I threw some glittery things around that said "Happy Birthday" while Scott put down a picnic rug. We sang the birthday song, and had a cake I'd baked and decorated. Amelia was rather fond of it, which gave me hope for her own party since I was making hers as well. After that, we just packed up and left, leaving a piece of cake for the birthday boy. At least graveside parties are easy and not too stressful!
Amelia scoffing some cake
I had to do a rainbow cake, didn't I? You'd be disappointed if I didn't.
And so, to Amelia's birthday. I had stressed for weeks - nay, months - over the details. I took
over six hundred photos
to get the invitations perfect. I bought two different editions of the Womens Day Kids Birthday Cake Book. I purchased a lot of different tools to put the cake together, and I pored over recipe sites for food ideas.I had to get it perfect.
The day approached fast, faster than I'd wished it. I spent most of the preceding two weeks collecting ingredients and supplies. I looked up how long things would last in the fridge, and pre-made a few things. I worried that I had too many sweets and not enough savouries. But my main concern was
The Cake.
I had originally decided on the merry-go-round cake - challenging, but pretty - but soon changed my mind to something simpler. The One Shaped Cake. It looked easy, and the photo they had in the book was adorable. But it didn't suit. I scrabbled to decide on a theme for this cake, until the Ponies arrived in my life. Yes, somewhere in the interim, I became a fan of My Little Pony: Friendship Is Magic. After a few weeks of watching these adorable creatures, I decided to theme Amelia's cake on
my
our favourite character - Fluttershy.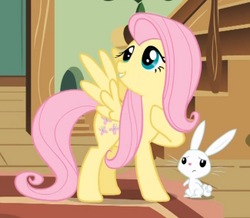 The day before the party, I started baking. Cake one didn't rise properly. It was risen on one side but not the other. I started panicking a little. Cake two was substantially better, almost perfect. Cake three... Cake three didn't play nice to begin with, not baking all the way through, but I popped it back in and kept a close eye on the oven.
Perfection.
I let them chill a while, and cut them into the correct pieces later that night before doing a "crumb layer" of icing.
Then the time came to ice it completely. I'd spent weeks practising, and this was my only shot at it. I started icing...
Midnight came, and it was Amelia's birthday. I tiptoed into our bedroom, climbed onto the bed, and gently kissed my beautiful one-year-old on the forehead. She stirred a little, but didn't wake, and I went back to what I was doing in the kitchen, going to bed myself an hour or two later.
End of Part One. Part Two (The Party) coming tomorrow!