Yesterday was Red Nose Day. Just like last year, I went along to the Remembrance service - this time with Scott and Amelia in tow. Milly and I rocked our noses (for about ten seconds until hers fell off).
Again, I got up to speak. I had no idea what to say, so I read out the poem I read at Ianto's funeral. I started tearing up as I read it, which made me stuff up some of the words. I also messed up while telling everyone about him (this is why I need to go off a script, people!) and I think I overstated his age. Oops.
Amelia was mostly quiet and content throughout, though she did have her moments. She startled awake when people clapped after songs/speeches, and cried a little when she got hungry. Apparently she was laughing at the woman who spoke before me. This kid has no sense of what's appropriate, tsk tsk... She ended up drifting back to sleep near the end.
The balloon release was fantastic, again. This time we had three - one from each of us.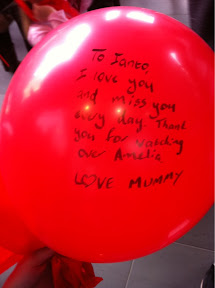 I tied the three together so they would stay near each other, and watched them drift off.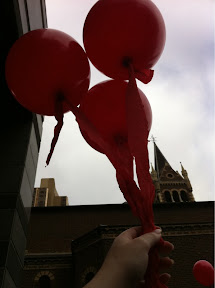 So beautiful.