I'm in the process of writing Milly's birth story. I really never noticed just how long-winded I can be though - it's already two Word pages long, and I haven't even reached the part where I went into labour! All I've written is just the pregnancy story... Oops!
I'm waiting to get all the photos together, too, so I won't be posting it until then. I promise I'll make it worth the wait though. Really.
Last Saturday Amelia had her professional photos done. It took a little while to convince her to sleep, but we got there in the end. If anyone wants a sneak peek, look up Chrissy Torney Photography on Facebook - the last two photos in her client album are ours. I can't wait to see the rest and pick out which ones we'll have on the wall...
Also regarding photography, when Milly was six days old we went to the Heartfelt Exhibition! After looking forward to it so much, we finally got to go along... And it was worth the wait. So many photos and stories - and everyone was so nice there, cooing over Amelia and asking about Ianto's picture. It was the one I have in the header of my blog, the one of his feet. I felt so proud of both my babies.
Well, I did want to make this a little longer, but Amelia's starting to stir and she'll be wanting a feed soon. Here's a photo from when we were at Heartfelt: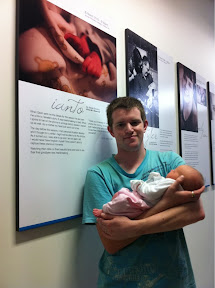 - Posted via BlogPress from my iPhone